A COST-EFFECTIVE SOLUTION FOR SEARCH AND RESCUE, STUDENT, PERSONNEL AND PATIENT EVACUATION.
---
The EVACU-AIDô Stretcher features:
Strong and durable materials
Non-slip, washable surface
Packaged for visibility (clear bag with grommet)
Compact and convenient storage (folded size approx. 12" x 12" x 2")

Reinforced stress points
Self-restraining
Lightweight (approx. 2 lbs.)
Accommodates poles (not supplied)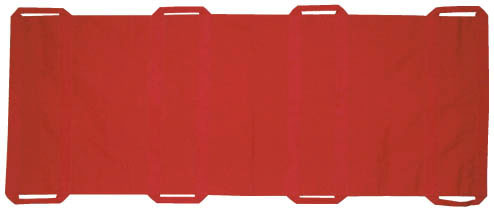 THE EVACU-AID STRETCHER HAS 8 HANDGRIPS TO ALLOW FAST AND SAFE TRANSPORT BY 2 to 4 PEOPLE. ITS UNIQUE, EASY-TO-USE DESIGN MAKES EVACU-AID AN EXCELLENT CHOICE FOR SCHOOLS, HOSPITALS AND OFFICES.

Part #99920
Full size: 72" x 28"

Patent Pending

This does not replace a backboard when neck and back injuries are present. Use by trained people is advised.
EVACU-AIDô PROTECTIVE BLANKET

Designed for use with the EVACU-AID stretcher, the EVACU-AID protective blanket permits the safe and rapid transfer of those in need of medical attention. MADE in the USA.
Features:

Waterproof shell
Absorbent liner with built-in insulation
High visibility color (yellow)
Disposable, hygienic design
Large size (approx. 54" x 80" full size; approx. 9" x 12" folded)
EVACU-AIDô TRIAGE TAGS
Features:

New

bar coding for computerized tracking and reporting

Waterproof plastic coated card stock

Pre-looped string through a metal grommet for easy attachment

Contamination designation icons

Perforated sequentially numbered and bar coded tear-offs
Color coded prioritization and user-friendly design
Packaging: bundles of 50, boxes of 500, and cases of 2000

PLEASE CONTACT US FOR PRICING. TAGS ARE IN STOCK FOR IMMEDIATE SHIPMENT.
Download a copy of our full-featured color flyer here (in Adobe Acrobat format).
We will be featuring some exciting additions to the EVACU-AIDô product line in the near future. Please check back here.
---
Keywords: First Aid, Stretchers, Evacu-Aid, Evacuation and Medical Supplies, Safety Equipment, Datrex, Omniglow, Lightstick, Cyalume, Snaplight, Camping Supplies, Flood Preparedness, Tornado Preparedness, Hurricane Preparedness, Thermal Protection Aids, Marine Safety Products, Earthquake Preparedness, Photoluminescent Products, Emergency Rations, Food Rations, Water Rations, Survival Supplies, Crowd Control Products, Protective Items.