BRW Diversified exclusively carries Datrex food in 2400-calorie and 3600-calorie rations. Packaged in tablet-sized pieces, Datrex food is approved by the U.S Coast Guard and delivers the following benefits:
Five-year shelf life
Desirable flavor
Not thirst-provoking
Easy distribution
Reduced product waste


2400-calorie Food Ration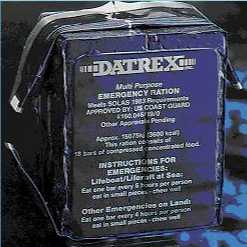 3600-calorie Food Ration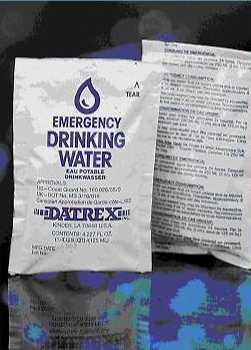 Packaged Water

Water, of course, is fundamental to survival. But clean, pure water is often difficult to find amid natural disasters. Through an exclusive agreement with Datrex, BRW Diversified offers purified water in easy-to-handle, 4.2-ounce foil packets (8 liters per case). The packets are durable and can withstand a pressure of 600 psi. The emergency drinking water comes with U.S. Coast Guard approval and a five-year shelf life.
Keywords: First Aid, Stretchers, Eid, Evacuation and Medical Supplies, Safety Equipment, Datrex, Omniglow, Lightstick, Cyalume, Snaplight, Camping Supplies, Flood Preparedness, Tornado Preparedness, Hurricane Preparedness, Thermal Protection Aids, Marine Safety Products, Earthquake Preparedness, Photoluminescent Products, Emergency Rations, Food Rations, Water Rations, Su
---
rvival Supplies, Crowd Control Products, Protective Items.