A COST-EFFECTIVE SOLUTION FOR SEARCH AND RESCUE, STUDENT, PERSONNEL AND PATIENT EVACUATION.
---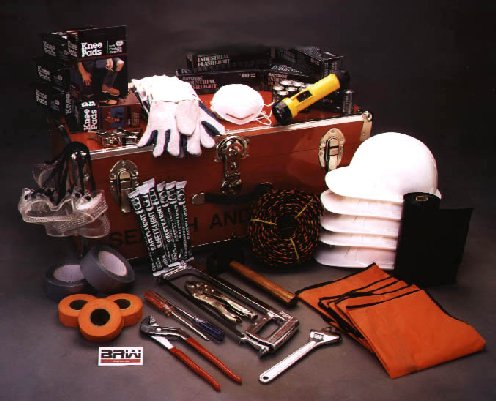 Search & Rescue Kit
Supports 5-Person Team
Packaged in durable Storage Container

Contents

Description

Quantity

Stretcher
EVACU-AID™; folding
1
Protective blanket
EVACU-AID™; waterproof; high-visibility yellow
1
Light sticks
12-hour; green
5
Light sticks
30-minute; high-intensity yellow
5
Flashlights
Rayovac™; spark resistant; MSHA approved
5
Flashlight batteries
Rayovac; D cell alkaline
10
Hard hats
5
Gloves (assorted sizes)
leather palm work gloves
5
Safety goggles
non-fogging
5
Knee pads
rubberized, adjustable strap
5
Dust masks
paper, disposable
15
Vest
orange vinyl, large
5
Whistle
brass
5
Tarp
8 ft. x 10 ft., waterproof, rot-proof, rip stop; polyethelene,
1
Barricade tape
1-3/16 in. x 300 ft.
3
Crayons
lumber marking
5
Sledge hammer
short handle
1
Adjustable wrench
10 in.; crescent type
1
Pry bar
3/4 in. x 24 in.; gooseneck
1
Screwdriver
flat head
1
Utility knife
one blade included
1
Utility knife blades
replacement blades
5
Pliers
slip joint; 10 in. (other sizes available)
1
Pliers
lock grip; 10 in. (other sizes available)
1
Rope
trucker's tie-down type; 3/8 in. x 50 ft.; polypropylene
1
Duct tape
2 in. x 60 yards
2
Saw
metal cutting; one blade included
1
Saw blades
12 in. replacement blades
4
Sanitation/disposable bags
imprinted: infectious waste
7
Download a copy of our Search & Rescue Kit product flyer here (in Adobe Acrobat format).
---
Keywords: First Aid, Stretchers, Evacu-Aid, Evacuation and Medical Supplies, Safety Equipment, Datrex, Omniglow, Lightstick, Cyalume, Snaplight, Camping Supplies, Flood Preparedness, Tornado Preparedness, Hurricane Preparedness, Thermal Protection Aids, Marine Safety Products, Earthquake Preparedness, Photoluminescent Products, Emergency Rations, Food Rations, Water Rations, Survival Supplies, Crowd Control Products, Protective Items.